FL·ESPORTS Q75 Three-Mode Gasket Mounted Black Transparent Mechanical Keyboard
FL·ESPORTS is a known name in the computer peripheral industry. The brand is mainly known for its budget offerings in the gaming keyboard and mice market. They also happen to have a keyboard kit for 75% mechanical keyboards. Today, FL·ESPORTS has released a fully-assembled 75% mechanical keyboard based on the Q75 baritone kit in a fully black chassis, presenting you the all-new FL·ESPORTS Q75 Black. It has a transparent PC upper chassis and frame that gives the keyboard a unique and rich look. Q75 Black is a highly-equipped keyboard from FL·ESPORTS. It features gasket mounted structure, dual-layered silicone foam padding, premium mechanical switches, full RGB backlight, triple connection modes, etc. FL·ESPORTS Q75 Black Transparent Keyboard is launched officially for 139$, feel free to check out more details here.
The Q75 Black adopts a high-gloss mirror shell on its chassis. This shell is made up of high-quality PC(PolyCarbonate) material. It has a smooth surface and feels really amazing to touch. With the transparent shell, the Q75 Black gets a unique look of its own.
FL·ESPORTS has got years of expertise in designing mechanical keyboards. They have fixed the PC positioning board inside the keyboard body using Gasket mounted structure. This effectively reduces the resonance and provides a smooth typing experience. There are two shock-absorbing silicone pads in the Q75 Black Transparent mechanical keyboard. They effectively reduce the sharpness in the sound produced upon key press, overall making the keyboard sound better!!
FL·ESPORTS Q75 Black Transparent has triple connection modes for easy connectivity with different devices. It can be connected to various different sources using Wireless Bluetooth V5.0, Wireless 2.4GHz, and Wired USB Connectivity. Q75 has its own custom driver for both Wireless 2.4GHz and Wired Type-C connectivity, which will also the users to easily adjust different settings, remap keys, and even create custom macro commands.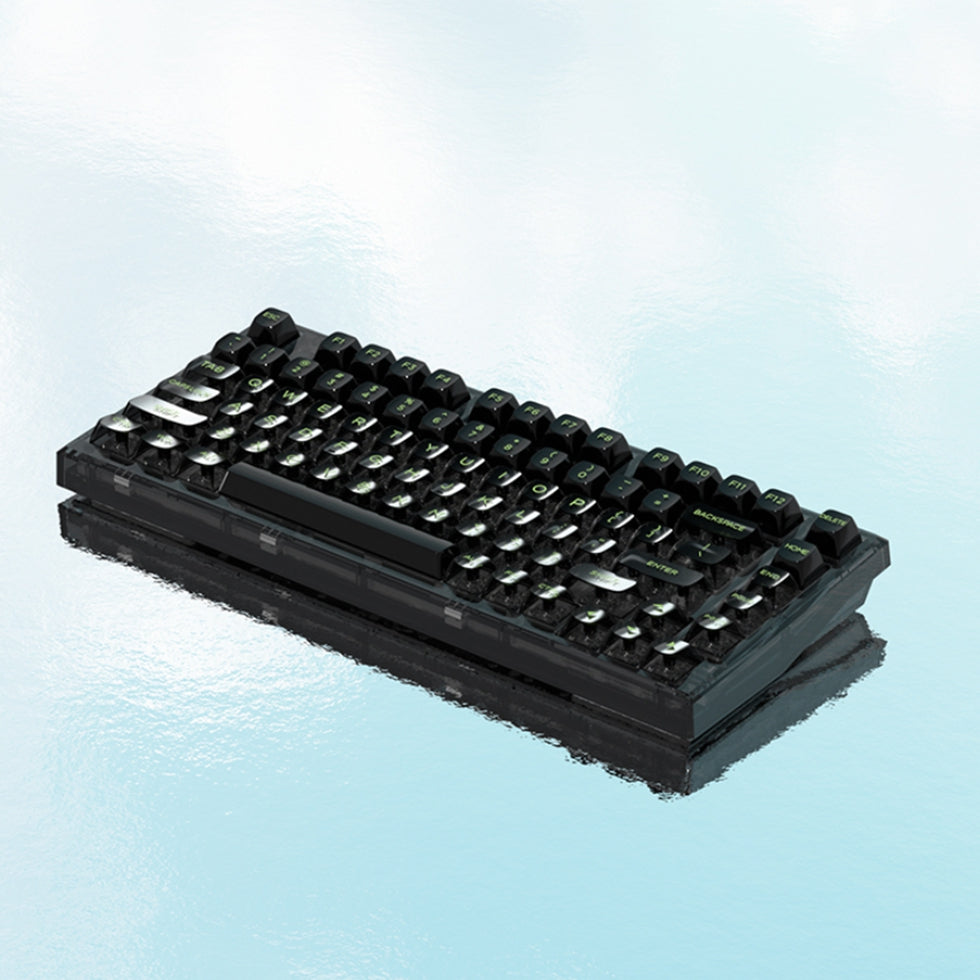 FL·ESPORTS Q75 Black Transparent is a modern Keyboard equipped with the latest-gen functions. It offers you easy usability with it 75% form factor, allows users to change the switches with the full-key hot swappable plate, Premium custom-mechanical switches, full-key conflict-free operation, and many more features. You can check out the complete list of features and more details on our product page here.