AJAZZ AC067 Cheese-Themed Keyboard for Children's Day
On 1st June, the occasion of Children's day, AJAZZ has come up with a rather unique mechanical keyboard, the all-new AJAZZ AC067 Cheese-themed mechanical keyboard. It's actually an ultra-compact keyboard with a 65% sleek layout. But the sleek and compact layout is not the actual attraction with the AC067, the keyboard has got a special cheese theme that just makes it stand out in the market full of mechanical keyboards. For this beautiful Cheese-themed keyboard, AJAZZ has actually taken inspiration from the bricks of cheese as showcased in the famous "Tom and Jerry" cartoon show. The chassis of the AC067 keyboard looks exactly like a brick of cheese, that's the ultimate craftsmanship of AJAZZ for you!! The Cheese Themed AC067 mechanical keyboard is launched officially for $219.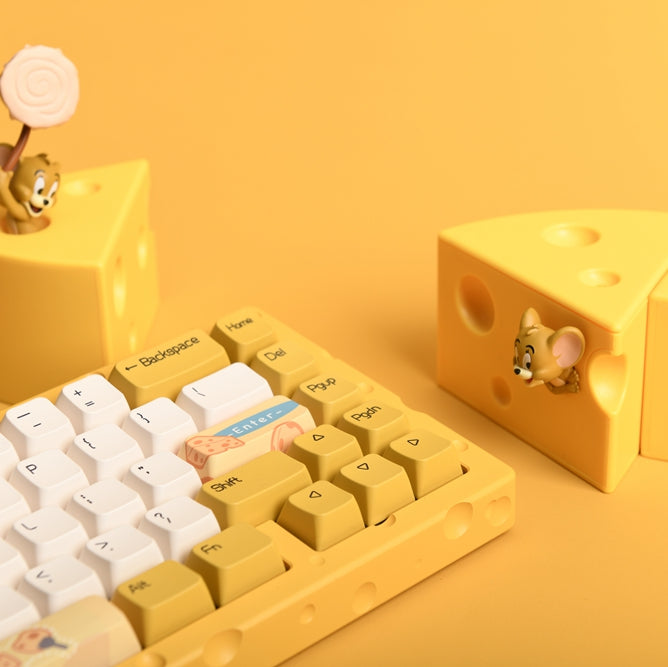 AC067 mechanical keyboard has got a beautiful design. The keyboard chassis looks exactly like a brick of cheese. AJAZZ has crafted this design using a high-precision CNC machining process. It is made up of high-quality Aluminum alloy material. The shell matches exactly with cheese with a beautiful yellow theme. This theme is carried forward onto the keycaps too. To complement the drooling Cheesy shell, AJAZZ has featured special dye-sublimed PBT keycaps in a beautiful white and yellow color combination. They also have a special artistic design on main keycaps like Spacebar. Both the keycaps and shell come together to create a drooling design for the AC067 Cheese mechanical keyboard.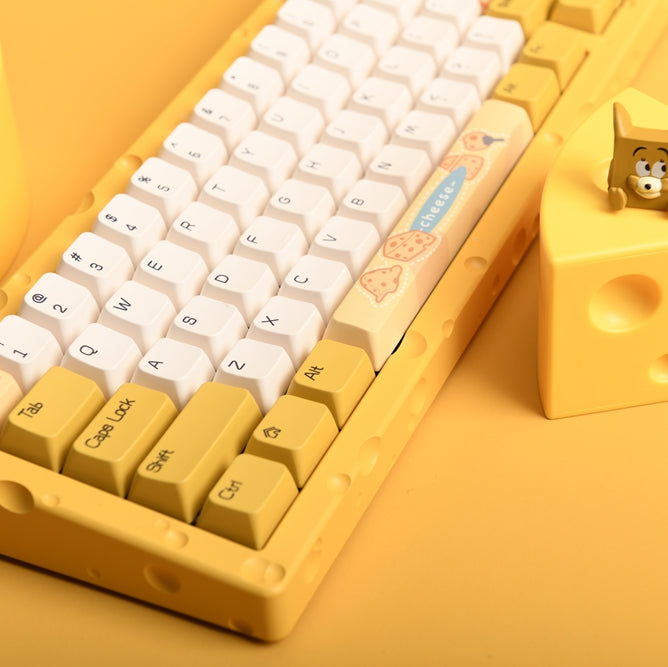 AJAZZ has also done a collaboration with Kalih for designing a linear and smooth Yellow Cheese mechanical switch for the AC067 keyboard. These switches are designed to provide a super-smooth typing experience, matching the super smooth character of the cheese. You are never stuck with any switches on the keyboard, AC067 keyboard brings you a full-key hot-swappable design that allows you to change the switches to your liking. The keyboard supports both 3-pin and 5-pin switches. It is compatible with over 99% of switches available in the market today!!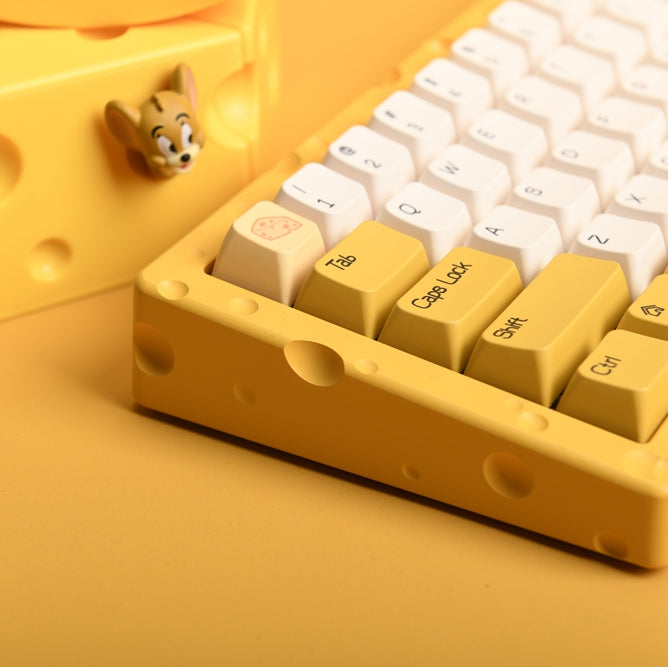 AJAZZ AC067 cheese-themed keyboard promises a rich user experience. Internally, the keyboard has a gasket-mounted structure with a PC positioning plate. The keyboard has silicone pads between the internals for stabilized keystrokes and soft acoustics with the keyboard. It also has a full-RGB backlit design that supports over 18 pre-built effects to match your mood. It can also sync with your music using musical rhythm effects!! The AC067 is a brilliantly designed keyboard that has a unique take on its design theme. It looks like an ideal gift for your loved ones this children's day!! You can check out more details here.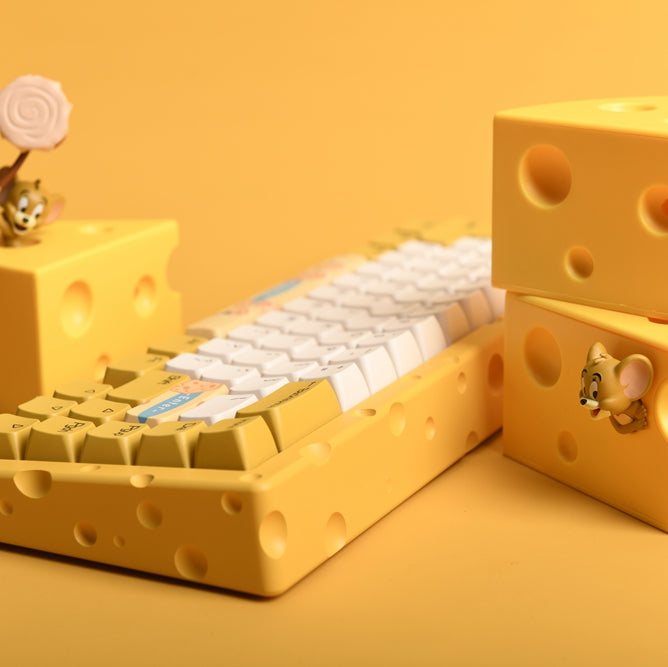 Features:-
>Special Cheese Themed Design.
>Ultra-compact 65% layout(67-key configuration).
>Cheese Themed Dye Sublimed MDA Height PBT Keycaps.
>Customised Kalih Box Yellow Cheese Switches.
>Gasket Mounted Structure.
>PC Positioning Board.
>Full-Key Hot-Swappable Support.
>Full-RGB Backlit.
>18 Pre-built backlight effects.
>Supports Music Rhythm Lighting Effects.
>Full-Key Non-Conflict Operation.
Technical Specifications:-
>No. Of Keys: 67.
>Shell Material: Aluminum alloy.
>Connection: USB Type-C.
>Dimensions: 327x118.2x43.4mm.
>Weight: 1.5Kg approx.